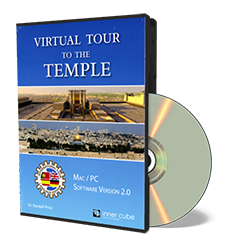 Virtual Tour to the Temple
---
Retail Price: $ 

49.99

Item#

CS007

ISBN:

9783942540506

Author:

Dr. Randall Price

Publisher:

Inner Cube Publishing

Size:

1 DVD-Rom disc.
---
We offer $3 and $7 flat rate shipping to the USA.
You can view a preview here.
Please note this product is computer software and requires a Mac or Windows computer to use. System Requirements for Virtual Tour to the Temple: Microsoft Windows 7 and 8 or Mac OSX 10.9 (or higher). Memory - 2 GB RAM minimum. Screen Resolution - 1280x720 (1920x1080 recommended). Hard drive space - 8 GB.
Three years in the making, Dr. Randall Price and a team from Inner-Cube Publishing in Germany traveled to Israel to produce a user-friendly interactive tool for research and investigation of the sites related to the Tabernacle and Temple.
Because tour groups visiting the Temple Mount today are restricted by the Islamic Waqf, and the only instruction allowed on the site is from the Islamic viewpoint, the team made multiple visits using a hidden camera and microphone to capture video footage of Dr. Price teaching—even in the midst of an Islamic riot against suspected Jewish worshippers who had entered the site!
Shot in 360 degree views, users are able to navigate anywhere on and around the Temple Mount (including the Mt. of Olives), read data points on each site, and see and hear video clips of Dr. Price's teaching. Other tour sites include the Tabernacle location at ancient Shiloh and the reconstructed Tabernacle in Timna Park. Original artistic reproductions of the Second Temple structures add even more interest.
This unique new tool will prove useful for educators wanting to show students the sites (as well as assign them research projects touring the sites) and for anyone interested in an interactive virtual reality tour to the Holy Land.
Each DVD contains the same virtual tour format in four languages (English, German, Spanish, and Portuguese).