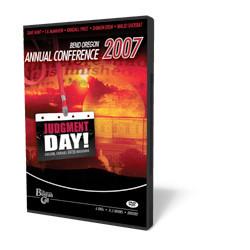 2007 Complete Conference DVD
---
Retail Price: $ 

35.99

Item#

DVD202

Author:

Hunt/McMahon/Erem/Price/Shoeba

Publisher:

The Berean Call

Size:

6 DVDs, 11.5 hrs.
---
We offer $3 and $7 flat rate shipping to the USA for packages 10lb and less.
We thank the Lord once again for blessing our second annual TBC conference with a tremendous turnout in our hometown of Bend. About 750 people were in attendance to hear an outstanding lineup of guest speakers (Dave Hunt, T. A. McMahon, Randall Price, Walid Shoebat, and Shimon Erem) and topics of importance and interest to serious students of God's Word. We are also grateful to be able to offer this eye-opening conference to our readers who were unable to attend due to distance or expense. Also available in CD and MP3 formats.
Topics include:
Apostasy Update (T.A. McMahon)
Archaeology as Biblical Proof (Randall Price)
Emerging Apostasy (T.A. McMahon)
Judgment Day .... What and Why (Dave Hunt)
Islam and the Nations (Dave Hunt)
Israel and the Church (Dave Hunt)
Loving and Living Christ (Dave Hunt)
Mideast Conflict and Antichrist (Randall Price)
Israel and the Nations (Shimon Erem)
Threat of the Islamic Caliphate (Walid Shoebat)
Where Do We Go From Here? (Dave Hunt)
Q & A (Dave Hunt, T.A. McMahon, Randall Price)
Q & A (Dave Hunt, T.A. McMahon, Walid Shoebat, Randall Price, Shimon Erem)