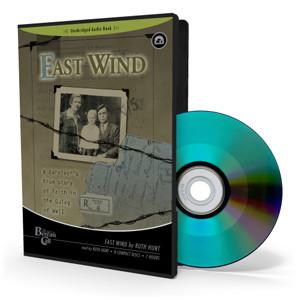 East Wind Audiobook
---
Retail Price: $ 

28.99

Item#
Author:

Ruth Hunt

Publisher:

The Berean Call, 2010

Size:

7 CDs or 1 MP3 disc, 7+ hrs.
---
We offer $3 and $7 flat rate shipping to the USA for packages 10lb and less.
"Only one who has felt the nearness of death can truly be grateful for each new day, no matter how much suffering it might bring." Thus speaks Maria Zeitner Linke, survivor of nine years' imprisonment in the death camps and prisons of Stalin's Russia following World War II.
A Christian classic, East Wind is Maria's incredible true story - as told to Ruth Hunt.
About the author: Ruth Hunt was born in 1926 and raised in a godly home. Her family tree goes way back to a Mennonite ancestry in the Netherlands. Her father became a beloved preacher among these fervent believers. Ruth followed her university graduation with teaching and administrative careers. A highlight was her God-blest marriage to author/lecturer David Hunt and the gift of four lovely children. Ruth lovingly cared for David until his passing in April 2013 and followed him Home in October of the same year. To the end of their sojourn here, Ruth and David declared with heartfelt thanks that "The eternal God is [their] refuge, and underneath are the everlasting arms" Deuteronomy 33:27.
Read by Ruth Hunt