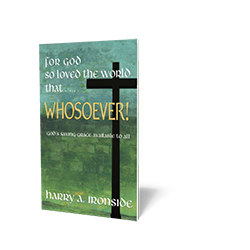 For God So Loved the World that... Whosoever!
---
Retail Price: $ 

1.95

Item#

LTP38

Author:

Harry A. Ironside

Publisher:

Lighthouse Trails Publishing

Size:

1 booklet, 11 pp.
---
We offer $3 and $7 flat rate shipping to the USA for packages 10lb and less.
Ironside writes, "Why do so many people think [John 3:16] is the greatest text in the Bible? There are other wonderful texts that dwell on the love of God, that show how men are delivered from judgment, that tell us how we may obtain everlasting life; but no other one verse, as far as I can see, gives us all these precious truths so clearly and so distinctly."