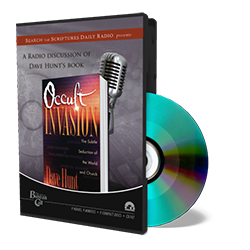 Occult Invasion - Radio Discussion
---
Retail Price: $ 

58.50

Item#
Author:

Dave Hunt & T. A. McMahon

Publisher:

The Berean Call

Size:

9 CDs or 1 MP3 disc, 9+ hrs.
---
We offer $3 and $7 flat rate shipping to the USA for packages 10lb and less.
You'll be astounded by the relevance of this classic series discussing Dave Hunt's book, Occult Invasion, with regard to contemporary issues facing the church in our changing culture and its long war against God. Now available for the first time on CD or MP3, this newly re-mastered series from Search the Scriptures Daily Radio contains a wealth of information that will inform and equip believers to recognize and address today's counterfeit spirituality appearing in the media, the workplace, educational institutions, and even in churches near you.
This 31-part series includes the following programs and more:
What Is Occultism?
Can You Believe the Bible and Evolution?
Can Spirits Communicate with Us?
What Is Sorcery?
Is Holistic Medicine Holy?
What's Wrong with Alternative Health Care?
Are 12-Steps Programs Occultic?
Is Alcoholism a Disease?
Is the Occult Invasion a Sign of the End Times?
Is the Church Involved in the Occult?
What's Wrong with Contemplation?
Are We All Little Gods?
Are UFOs Real?
Is the Gospel Cosmic?
What About Apparitions and Angels?
Should We Pray to Mary?
Charismatic Occultism
Are There Techniques for Getting Miracles?
Is Psychology Occultic?
Is Spiritual Warfare Biblical?