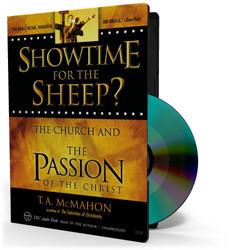 Showtime for the Sheep? Audiobook
---
Retail Price: $ 

20.99

Item#
Author:

T. A. McMahon

Publisher:

The Berean Call, 2005

Size:

4 CDs or 1 MP3 disc, 4.3 hrs.
---
We offer $3 and $7 flat rate shipping to the USA for packages 10lb and less.
Choose either CD or MP3 format above and click "Add to cart" to purchase!
Get the free eBook at DaveHunt.org
Could the church be enthralled with something that might have a host of problems beyond just a popular motion picture about Jesus Christ? T. A. observed a connection between The Passion and trends taking place among professing Bible believers such as the increasing use of entertainment in presenting the gospel, the ecumenical relationship between Catholics and Evangelicals, the use of imagery verging on idolatry, and the major drift away from the objective Word of God to highly subjective visual media. 
Table of Contents:
Showtime for the Sheep?
Is the Medium the Message?
Amusing Ourselves Away from the Word?
Lost in Translation?
Is It As It Was?
Experiencing Mel's Vision
The Vision Mix
The Man Who Would Be Jesus
Images of Another Jesus?
Mary, the Executive Producer?
Another Gospel?
Sheep Fed by the Hireling?
ECT at the Movies?
Lights, Camera, Salvation?
Yes, But... and Beyond
Man's Way or God's Way?
Read by T. A. McMahon