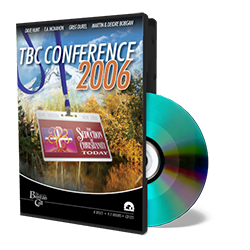 2006 Complete Conference
---
Retail Price: $ 

59.99

Item#
Author:

Various

Publisher:

The Berean Call

Size:

8 CDs or 1 MP3 disc, 9+ hrs.
---
We offer $3 and $7 flat rate shipping to the USA for packages 10lb and less.
TBC Conference 2006 - The Seduction of Christianity Today
Speakers include Dave Hunt, T.A. McMahon, Greg Durel, and Martin and Deidre Bobgan. Featuring music from Christie Romine and The Booher Brothers.
The Seduction of Christianity Today (T.A. McMahon)
Evangelicals and Catholics Together Today (Greg Durel)
The Psychological Seduction of Christianity Today, Part 1 (Martin Bobgan)
The Psychological Seduction of Christianity Today, Part 2 (Deidre Bobgan)
The Subversion of Scriptures Today (Dave Hunt)
The Emerging Mysticism in Evangelicalism Today (Greg Durel)
God's Way vs. Man's Way: Ministering to One Another Biblically (Bobgans)
The Sufficiency of God's Word (T.A.)
Take Heed That No Man Deceive You (Dave Hunt)
At What Cost a Bride? (Dave Hunt)