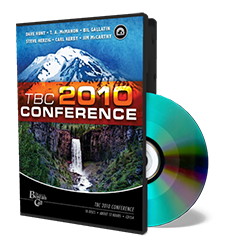 2010 Complete Conference
---
Retail Price: $ 

59.99

Item#
Author:

Various

Publisher:

The Berean Call, 2010

Size:

10 CDs or 1 MP3 disc, 12+ hrs.
---
We offer $3 and $7 flat rate shipping to the USA for packages 10lb and less.
Our 2010 Bible Conference in Bend, Oregon, was our best-attended "hometown" event to date, held in the beautiful Riverhouse Conference Center facilities. If you were not able to join us, you won't want to miss these exclusive audio recordings available now on CD or MP3 format.
The 2010 Conference series features 10 sessions by five speakers:
Bil Gallatin: Doest Thou Well to Be Angry? and The Mercy Seat
Carl Kerby: How to Keep Teens from Leaving the Church and God Said
Jim McCarthy: The Legacy of Dave Hunt and What Love Is This?
Steve Herzig: Israel: Past, Present, and Future and Israel: A Good Country In a Bad Neighborhood
T. A. McMahon: The First and Final Lie: Self-Deification and Apostasy Update
Also included:
never-released "Dave Hunt classics,"
Seducing Spirits and Doctrines of Devils
, and
Global Peace and The Rise of Antichrist