100 Instrumental Hymns CD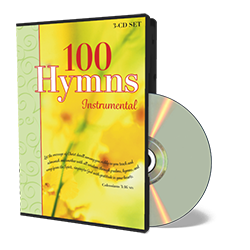 100 Instrumental Hymns CD
---
Retail Price: $ 

15.99

Item#

CD133

ISBN:

718451826321

Author:

Twin Sisters Production

Publisher:

The Berean Call

Size:

3 CDs, 5+ hrs.
---
We offer $3 and $7 flat rate shipping to the USA for packages 10lb and less.
This collection of hymns (set of three CDs) has become a favorite of many in the TBC office. The music is inspiring, but mellow enough to have playing in your office or home.
Preview five of the songs here: mp3 download
The songs are:
Abide With Me, Fast Falls The Eventide
Alas! And Did My Savior Bleed
All Glory, Laud And Honor
All People That On Earth Do Dwell
Am I A Soldier Of The Cross
Amazing Grace
At The Cross
Be Still, My Soul
Be Thou My Vision
Beneath The Cross Of Jesus
Blessed Assurance
Blest Be The Tie That Binds
Break Thou The Bread Of Life
Breathe On Me, O Breath Of God
Christ, From Whom All Blessing Flow
The Church's One Foundation
Close To Thee
Come, Christians, Join To Sing
Come, Thou Almighty King
Come, Thou Fount
Come, Ye Sinners Poor And Needy
Fairest Lord Jesus
Faith Of Our Fathers
For The Beauty Of The Earth
God Will Take Care Of You
Grace Greater Than Our Sin
Hallelujah, What A Savior!
He Is Lord
He Leadeth Me
Holy God, We Praise Thy Name
Holy, Holy, Holy
I Am His And He Is Mine
I Know Whom I Have Believed
I Love To Tell The Story
I Need Thee Every Hour
I Stand Amazed In The Presence
Immortal, Invisible
In The Garden
In The Sweet By And By
It Is Well With My Soul
Jesus Calls Us
Jesus Is All The World To Me
Jesus Loves Me
Jesus Paid It All
Jesus Shall Reign
Jesus, Keep Me Near The Cross
Jesus, The Very Thought Of Thee
Just As I Am
The King Of Love My Shepherd Is
Kum Ba Yah
Lead On, O King Eternal
Leaning On The Everlasting Arms
Let Us Break Bread Together
A Mighty Fortress Is Our God
My Jesus, I Love Thee
Nearer, My God, To Thee
Nearer, Still Nearer
No, Not One!
Nothing But The Blood
O For A Thousand Tongues
O God, Our Help In Ages Past
O Happy Day!
O Holy City, Seen Of God
O How I Love Jesus
O Love That Will Not Let Me Go
O Perfect Love
O Sacred Head Now Wounded
O Worship The King
The Old Rugged Cross
On Jordan's Stormy Banks I Stand
Only Trust Him
Open My Eyes That I May See
Pass Me Not, O Gentle Savior
Praise God From Whom All Blessings Flow
Praise To The Lord, The Almighty
Rejoice, The Lord Is King
Rejoice, Ye Pure In Heart
Rescue The Perishing
Revive Us Again
Rock Of Ages
Savior, Like A Shepherd
Shall We Gather At The River?
Sing Praise To God Who Reigns Above
Softly And Tenderly
Spirit Of God, Descend Upon My Heart
Standing In The Need Of Prayer
Sweet Hour Of Prayer
Take My Life And Let It Be
There Is A Fountain Filled With Blood
There's A Wideness In God's Mercy
This Is My Father's World
Tis So Sweet To Trust In Jesus
We Gather Together
We've A Story To Tell To The Nations
What A Friend We Have In Jesus
When I Survey The Wondrous Cross
When Morning Gilds The Skies
When We All Get To Heaven
Whiter Than Snow
Wonderful Words Of Life