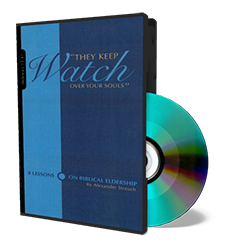 They Keep Watch Over Your Souls CD
---
Retail Price: $ 

21.99

Item#

CD141

Author:

Alexander Strauch

Publisher:

Lewis and Roth Publishers, 1995

Size:

6 CDs, 4 hrs.
---
We offer $3 and $7 flat rate shipping to the USA for packages 10lb and less.
Shepherding God's people is both a noble calling and a great responsibility. Leading, feeding, protecting, and caring for others requires skill, diligence, and a continual dependence on the Holy Spirit. Though frequently demanding, eldership remains a critically important task, for without proper shepherding, local communities of faith are slow to take on the character of Christ and often succumb to the enemy's constant attacks. In this series of eight important lessons on biblical eldership, Alexander Strauch addresses the key issues every man must consider when taking on or executing the office of eldership.