Arab Bible - Are Yahweh and Allah the Same God? CD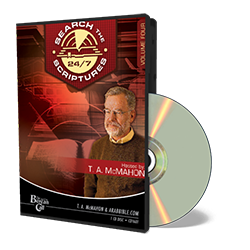 Arab Bible - Are Yahweh and Allah the Same God? CD
---
Retail Price: $ 

6.50

Item#

CD1601

Author:

T. A. McMahon & Tom Davey

Publisher:

The Berean Call, 2016

Size:

1 CD, 50 min.
---
We offer $3 and $7 flat rate shipping to the USA for packages 10lb and less.
Search the Scriptures 24/7 with T. A. McMahon and "Tom," the developer of ArabBible, a software program designed to help English speakers interactively learn the classical Arabic of the Arabic Bible. Listen in as T. A. and Tom discuss why "Yahweh" and "Allah" cannot be used as interchangeable names for the God of the Bible.
Originally aired January 2016
About Search the Scriptures 24/7
Search the Scriptures 24/7 with T.A. McMahon, the co-author of The Seduction of Christianity, engages guests in discussions that biblically evaluate popular trends and teachings that are influencing millions of Christians today.
The programs are availble each week since 2013
The objective is to encourage listeners to be like the Bereans of Acts:17:11. They listened to the Apostle Paul and were commended for searching the Scriptures daily to see if what he was preaching was true to God's Word.
You may listen to this program for free at our Radio Page.
Other ways to listen: TBC App | oneplace.com | iTunes | email updates
Topic Pages on our Website
We offer topic pages on our main website www.thebereancall.org with free resources that relate to topics like the Bible, Calvinisim, End Times, Israel, Prophecy and many others.  Click here for a full list.