Jerusalem in Prophecy DVD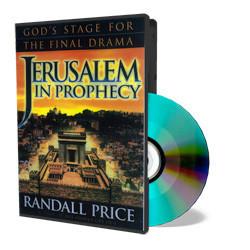 Jerusalem in Prophecy DVD
---
Retail Price: $ 

19.99

Item#

DVD140

Author:

Dr. Randall Price

Publisher:

World of the Bible Productions, 1998

Size:

1 DVD, 57 min.
---
We offer $3 and $7 flat rate shipping to the USA for packages 10lb and less.
God's Stage for the Final Drama
Jerusalem has a rich, fascinating history spanning more than 3,000 years. But the city's most significant days are still to come!
Today, however, the city's future looks grim.  Tensions are escalating to the breaking point as Israelis and Arabs claim sole rights to the city and, more importantly, the Temple Mount.  Each day, the Middle East conflict seems to spiral more and more out of control.
But that's not the case.  Little does the world know the stage is now being set for both a terrifying destruction and an amazing deliverance... far beyond what anyone could imagine! Filmed on location in Israel with prophecy and Middle Eastern expert Dr. Randall Price, Jerusalem in Prophecy gives a fascinating preview of the incredible future God has in store for His chosen land and people!
Dr. J. Randall Price, (Th.M. Old Testament and Semitic Languages, and Ph.D. Middle Eastern Studies) has lived in Israel and did graduate studies at the Hebrew University in Jerusalem.  He has served as director of archaeological excavations on the Qumran Plateau (site of the Dead Sea Scrolls) and as president of World of the Bible Ministries. Dr. Price lectures worldwide on the ancient world and its relationship to the Bible.