2010 Conference Jim McCarthy DVD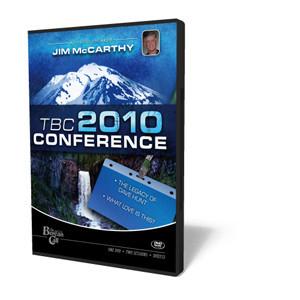 2010 Conference Jim McCarthy DVD
---
Retail Price: $ 

13.99

Item#

DVD213

Author:

Jim McCarthy

Publisher:

The Berean Call, 2010

Size:

1 DVD, 1.75 hrs.
---
We offer $3 and $7 flat rate shipping to the USA for packages 10lb and less.
Watch Jim McCarthy at the 2010 TBC Conference in Bend, Oregon as he talks about:
The Legacy of Dave Hunt
What Love is This?
About Jim: Jim was educated in the parochial school system as a youth and later obtained separate bachelor's degrees in creative arts and electrical engineering. Jim and his wife, Jean came to Christ in their mid-twenties through a home Bible study in 1975. He began to search for literature to help him understand the differences between Roman Catholicism and biblical Christianity. Disappointed with the quality and tone of what was available at the time, he began to write and produce his own materials. In 1981, he founded the ministry of Good News for Catholics to help distribute the new literature.
More recently, Jim has begun writing on other subjects. His latest book is John Calvin Goes to Berkeley (City Christian Press, 2010), a novel about five students who try to solve the mystery of predestination.