2014 Complete Conference DVD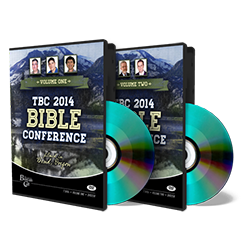 2014 Complete Conference DVD
---
Retail Price: $ 

99.99

Item#

DVD258

Author:

Various

Publisher:

The Berean Call, 2014

Size:

14 DVDs, 13+ hrs.
---
We offer $3 and $7 flat rate shipping to the USA for packages 10lb and less.
Every year, we say it. And every year we mean it. "This year's conference was the 'best ever'!" When we consider the variety of speakers and diversity of topics, we stand amazed at the cohesiveness of the messages as the speakers taught, warned, encouraged, admonished, and blessed us through many subjects, all pointing us back to God's Word as the only source of truth. We live in exciting and sometimes frightening times. It is such a comfort to hear teaching that helps to make sense of some of the incredible events in our day. This collection of biblically sound and thought-provoking messages is available as a complete set on DVD, CD, or MP3. You will definitely want to share these with friends and loved ones!
Talks include:
Carl Kerby, Jr.
Why Are We Losing Our Younger Generation?
Game Over - It's Not Just a Game
Ray Yungen
Mystical Revolution and Reiki Energy
Contemplative Prayer
Warren Smith
"Another Jesus" Calling
A "Wonderful" Deception
Truth—The Whole Truth
Paul Wilkinson
Israel in the Line of Fire (Part 1)
Israel in the Line of Fire (Part 2)
When the Trumpet Call Shall Sound
T. A. McMahon
Prophecy: More Critical Than Ever
Understanding the Times Survey
The Vanishing Word of God