2016 Conference Carl Kerby DVD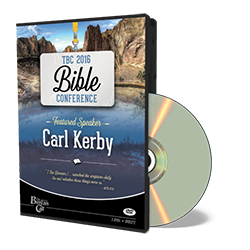 2016 Conference Carl Kerby DVD
---
Retail Price: $ 

10.25

Item#

DVD272

Author:

Carl Kerby

Publisher:

The Berean Call, 2016

Size:

3 DVDs, 2+ hrs.
---
We offer $3 and $7 flat rate shipping to the USA for packages 10lb and less.
Carl Kerby's sessions from the TBC 2016 confence include:
Becoming Bold!

10 Things a Christian Can Learn about Evangelism...From an Atheist! (with Q and A)
Carl Kerby has a passion to proclaim the authority and accuracy of the Bible and to engage the minds and hearts of believers and unbelievers in today's culture so that they may experience the realities of the Word of God. Whether he speaks to youth or adults, large or small crowds, churches or schools, Carl has a way of connecting with almost everybody, which is one of the reasons that he is a much sought-after speaker both in the United States and abroad. Carl was a founding Board Member of Answer in Genesis for 10 years and served there for more than 15 years before stepping out in faith to become president and Found of Reasons for Hope. Find Carl's website here.