2017 Conference Jay Seegert DVD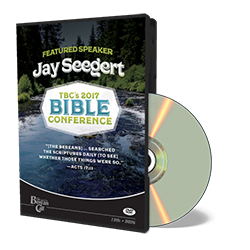 2017 Conference Jay Seegert DVD
---
Retail Price: $ 

10.25

Item#

DVD282

Author:

Jay Seegert

Publisher:

The Berean Call, 2017

Size:

2 DVDs, 2.2 hrs.
---
We offer $3 and $7 flat rate shipping to the USA for packages 10lb and less.
Jay Seegert's sessions from the TBC 2017 conference include:
Creation vs Evolution: The Cases from Science
Scientific Evidence for the Inspiration of the Bible 

Jay Seegert is co-founder and principal lecturer of the Creation Education Center. Jay was raised in a strong Christian home but his interest in apologetics and creation science was first stirred while he was attending college and being instructed by many evolutionists and atheists. It was during this time that he wrote his first paper on creation science and gave his first lecture.