2018 Conference Rob Congdon DVD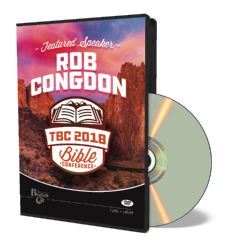 2018 Conference Rob Congdon DVD
---
Item#

DVD290

Author:

Robert Congdon

Publisher:

The Berean Call, 2018

Size:

3 DVDs, 3+ hrs.
---
We offer $3 and $7 flat rate shipping to the USA for packages 10lb and less.
Robert Congdon's sessions from the 2018 TBC Conference include:
The Tumbling of TULIP

New Calvinism: Its Present Impact and Its Future Impact

Gog and Magog
Robert Congdon is the head of Congdon Ministries International, an organization that assists local churches in understanding biblical eschatology and thereby enabling them to defend their belief in the rapture, the coming Tribulation, the Second Coming of Christ, and the 1000-year Millennial rule of Christ upon the earth. Rob works with pastors and leaders in helping them to identify and counter false teachings such as Calvinism, the Purpose-Driven/Emergent movement, and Reformed/Replacement theology. His latest books address the errors found within millennialism, and, in particular, anti-Semitism and what he calls the "New Calvinism". Find his website here.