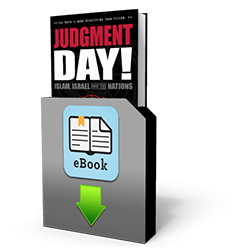 Judgment Day! (download)
---
Retail Price: $ 

24.99

Item#

E05858

Author:

Dave Hunt

Publisher:

The Berean Call
---
We offer $3 and $7 flat rate shipping to the USA for packages 10lb and less.
This eBook is available in multiple formats and they will all be sent via email within an hour of purchase.

This expanded third edition is the most comprehensive examination to date of ancient biblical prophecy and modern-day Middle East politics regarding Islam, Israel and the nations—which includes the United States of America! Painstakingly researched using up-to-the-minute data, Judgment Day! is sure to become a respected resource for scholars, analysts, pastors, professors, politicians, and lay people alike. Amazing historical facts and firsthand, eyewitness insight make this book a thrilling, sometimes troubling read—but one necessary for a heavenward understanding of the prophetic times in which we live.