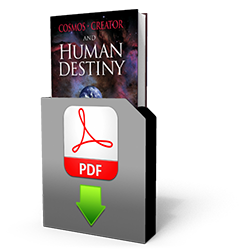 Cosmos, Creator and Human Destiny (download)
---
Retail Price: $ 

32.99

Item#

E60644

Author:

Dave Hunt

Publisher:

The Berean Call
---
We offer $3 and $7 flat rate shipping to the USA for packages 10lb and less.
This eBook is available in multiple formats and they will all be sent via email within an hour of purchase.

Answering Darwin, Dawkins, and the New Atheists
This excuse-shattering exposé of Darwin and Dawkins is the Dave Hunt magnum opus you've been waiting (and praying) for! Each of Dave's seminal works—whether on occultism, Catholicism, Calvinism, ecumenism, Islam, or cosmic evolution, have all been, at the time of their publication, his "most important work to date"—and this 606-page refutation of Darwinian evolution (as championed by Richard Dawkins, Christopher Hitchens, and today's aggressive "New Atheists") is no exception.
As Dave has repeatedly said throughout the production of Cosmos, Creator, and Human Destiny, "This is not the book I set out to write." For one reason, it is not an exhaustive scientific treatise dealing purely with innumerable physical evidences. Neither is it a micro-focused academic volume that requires a degree in astrophysics to understand.
Rather, Cosmos is a book that every Christian can and should read; comforting and confidence-boosting for believers,  convicting and catastrophic to the skeptic's worldview. It is a soul-arresting work that strikes to the heart of the human condition and man-centered philosophy. With shatterproof logic, it turns the arguments of atheists upon themselves, while at the same time graciously illuminating the irrefutable evidence of providence and design in every "corner" of the cosmos. The countless quotes of leading scientists and atheists (used in their original context) are alone worth the price of this lovingly written and beautifully presented hardcover.
Seasoned creation-science readers will recognize that this book is intentionally "non-creationist" in appearance. Missing (by design) are the usual prolific endorsements of leading conservative evangelicals, which Dave's impeccable research and reasoning generally garner. Even the jacket copy has been carefully crafted to pique the interest of the atheist, agnostic, or skeptic. The reason is simple: though the book is being sold primarily through distribution channels catering to Christians, Dave personally wants to give scoffers, skeptics, and non-believers every reason to pick up the book and crack it open. This magnificent hardcover volume was designed to reach your friend, neighbor, co-worker, brother, sister, mother, father, teacher, and professor with reason, logic, passion, and compassion.
But make no mistake: Though Dave's unique approach will hold the attention of ardent critics, this book is also an indispensable armory for the serious high school, college/career, and adult believer. And, as one can expect from a Dave Hunt book, the author does not avoid the Scriptures but skillfully weaves the historicity of God's Word and the gospel throughout, with unmistakable clarity and conviction.
Outside of God's Word, there seems to be increasingly few books that merit small-group study these days—but in a world increasingly hostile to the truth that "sets one free" and which may be "clearly seen," Cosmos is one of those you'll want to read, share, and prayerfully consider using for your home, church, or college/career study group.