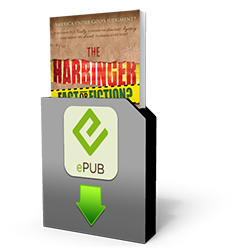 Harbinger: Fact or Fiction? (download)
---
Retail Price: $ 

15.99

Item#

E60804

Author:

David James

Publisher:

The Berean Call
---
We offer $3 and $7 flat rate shipping to the USA for packages 10lb and less.
This eBook is available in multiple formats and they will all be sent via email within an hour of purchase.

This exclusive book from The Berean Call encourages—and enables—readers to separate fact from fiction!
In The Harbinger: Fact or Fiction? author David James exhaustively documents and responds to the serious flaws found throughout the New York Times best-seller from Charisma Media, The Harbinger. Messianic rabbi Jonathan Cahn believes he has discovered an "ancient mystery" in Isaiah:9:10 that "explains everything from 9/11 to the collapse of the global economy." As Cahn states at the beginning of his book "What you are about to read is presented in the form of a story, but what is contained within the story is real." Many have accepted Cahn's message as being genuinely from God. However, David James has clearly demonstrated that The Harbinger falls far short of meeting the biblical requirements for such a message from God, being based on the mishandling of Scripture, faulty theology, misleading statements, the selective use of historical facts, and unsupported speculation.
What others are saying about The Harbinger: Fact or Fiction?:
"James has written this book not merely to expose error but to keep God's people from being led astray. I believe he has accomplished these goals." —Gary E. Gilley, Senior Pastor, Southern View Chapel, Springfield, Illinois
"This book gives the reader a detailed, point-by-point analysis challenging [The Harbinger]. James does this with clear bilical methodology while avoiding personal attacks." —Paul Barreca, Teaching Pastor, Faith Bible Church, Vineland, New Jersey
"David James has done an excellent job in this review of . . . The Harbinger, [taking] a crucial look at the biblical aspects." —Jimmy DeYoung, President and Founder, Prophecy Today
"David James has used true discernment, extensive research, and biblical hermeneutics to reveal the dangerous message of  The Harbinger[and its] extra-biblical revelation." —Brannon Howse, President and Founder, Worldview Weekend
"Anyone interested in The Harbinger needs to note [its] numerous errors...as presented in James's excellent analysis." —Roy B. Zuck, Senior Professor Emeritus of Bible Exposition, Dallas Theological Seminary
"Dave James provides a fair biblical analysis for anyone wanting scrutiny of The Harbinger. I commend James's book . . . for those seeking the truth rather than popularity." 

—

Tommy Ice, Executive Director, Pre-Trib Research Center
From the Foreword:
Jesus characterized the days prior to His return by telling His disciples: "Take heed that no man deceive you" (Matthew 24:4), and followed that by warning that the deceptions of the last days would be so overwhelming that "if possible, they shall deceive the very elect" (Matthew 24:24). What is the antidote for believers? It's quite simple. They must be disciplined in their reading and living out the instructions of God's Word. They must have a love for the Truth. They must become like the Bereans of Acts 17:10-11, who were commended for searching the Scriptures daily as they evaluated the preaching and teaching of the Apostle Paul.
To that end, David James has written an excellent book that will encourage every believer who reads it to grow in discernment at a time when that is greatly lacking among those who profess to be biblical Christians. If anyone thinks this is simply a critique of a popular book that has reached the top of the New York Times best-seller list, he will miss the true value of what James has written. It's a short but very full course on biblical discernment that is a lesson to all of us on how we should evaluate everything we read that claims to teach about the things of God. —T. A. McMahon
David James is co-founder and Executive Director of The Alliance for Biblical Integrity (ABI). Dave earned his undergraduate degree in engineering from Rose-Hulman Institute of Technology and his masters in Biblical Studies from Dallas Theological Seminary. He also holds a diploma in Biblical Studies from the Word of Life Bible Institute. Dave's ministry with ABI includes an extensive international teaching and preaching schedule in Bible institutes, seminaries, and conferences, as well as research and writing on current theological issues. He served with Word of Life Fellowship for 21 years, with 16 of those years as the Founding Director of the Word of Life Bible Institute in Hungary. In addition to directing ABI, Dave also directs and teaches in the School of Prophets (a ministry of Prophecy Today and Louisiana Baptist University, directed by Jimmy DeYoung) which offers masters and doctoral degrees in advanced eschatological studies. He has also taught as an adjunct professor of Bible for Grace College in the Indiana state prison system. Dave is actively involved in their local church where he serves on the board and frequently teaches. He and Karen were married in 1980 and have two grown children, a daughter-in-law, and one granddaughter.