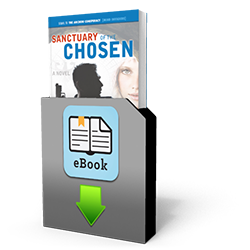 Sanctuary of the Chosen (download)
---
Item#

E60866

Author:

Dave Hunt

Publisher:

The Berean Call
---
We offer $3 and $7 flat rate shipping to the USA for packages 10lb and less.
This eBook is available in multiple formats and they will all be sent via email within an hour of purchase.

Set during the height of the Cold War, Dave Hunt's second novel focuses on the secret world of global warfare—not only between East and West, but for the ultimate control of planet Earth. Readers will be captivated by this heart-racing, history-based drama which masterfully weaves the perils of international politics with Bible prophecy and spine-chilling manifestations of our spiritual battle. This captivating novel brings the shadowy world of undercover espionage, international intrigue, and demonic deception into razor-sharp focus—in a thrilling plot that could just as easily have been set in present day:
Caught in a conspiracy linking Washington, Moscow, and Rome, Ari Thalberg must make a choice that could catapult him into leadership in the New World Order...or into destruction. Romance, intrigue and a search for truth collide in a frantic race against death and the forces of evil.
As a young boy Ari had been raised as one of the Party's elite—East Germany's hope for dominance in the future. But Ari leads a double life: by day, a loyal party member and by night, the organizer of student protests designed to overthrow the communist system. When the conspiracy is uncovered, Ari is marked for destruction. Now a fugitive without a country, only one nation will take him in. There he must finally face the truth about his despised heritage and confront the forces that have controlled his destiny.  
Will Ari's love for Miriam cause him to heed her warnings before it's too late? Or will his fateful obsession to establish world peace drive him into a diabolical chess match with powers beyond his control?
Anchored in history, this compelling drama takes you behind the scenes of future world events, displaying Bible prophecy in a grand and sweeping account worthy of the silver screen.