How Close Are We? Audiobook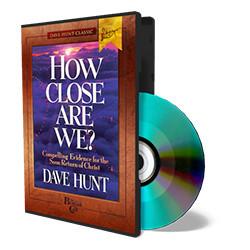 How Close Are We? Audiobook
---
Retail Price: $ 

35.99

Item#
Author:

Dave Hunt

Publisher:

The Berean Call, 2010

Size:

9 CDs or 1 MP3 disc, 11 hrs.
---
We offer $3 and $7 flat rate shipping to the USA for packages 10lb and less.
The complete and unabridged audio book version of How Close Are We? Dave's Hunt's original complete work on the "compelling evidence for the soon return of Christ," as first published by Harvest House in 1993.
The early church believed that Christ could come at any moment. In a refreshing, thoroughly biblical, and compelling look at prophecy, noted author Dave Hunt challenges readers to evaluate their lives in light of Christ's promise, "I will come again."
Read by Sally Oppliger