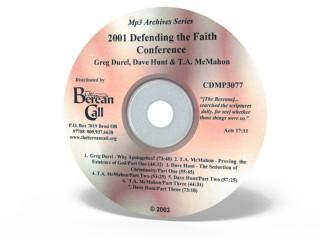 Defending the Faith MP3
---
Retail Price: $ 

13.00

Item#

MP3077

Author:

Dave Hunt, T. A. McMahon, & Greg Durel

Publisher:

The Berean Call

Size:

1 disc, 4 hrs.
---
We offer $3 and $7 flat rate shipping to the USA for packages 10lb and less.
The Apostle Peter under the Holy Spirit's inspiration encourages believers to always be ready (1 Peter 3:15) to explain their faith to whoever asks them about what they believe and why.
This multifaceted discernment series was recorded during the 2001 Defending the Faith conference and features Dave Hunt, Greg Durel, and T. A. McMahon. It's sure to be a great help in witnessing and strengthening yourself in the faith.
Nearly six hours of teaching in seven presentations!
Greg Durel: Why Apologetics?

T. A. McMahon: Proving the Existence of God

Dave Hunt: The Seduction of Christianity