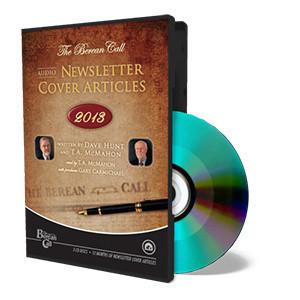 2013 Audio Newsletter Cover Articles
---
Retail Price: $ 

19.99

Item#

NLCD13

Author:

T. A. McMahon

Publisher:

The Berean Call, 2013

Size:

3 CDs, 3+ hrs.
---
We offer $3 and $7 flat rate shipping to the USA for packages 10lb and less.
Listen to an entire year of audio newsletter cover articles from The Berean Call, as read by T. A. McMahon and producer Gary Carmichael. This repackaged CD album contains quality audio files, playable on ANY compact disc player, car stereo, or computer. This is not a compressed MP3 file, but a full broadcast-quality CD-audio file. Enjoy all 12 feature articles (approximately 3.5 hours total) from 2013, presented in the order in which they were originally published.
Includes the following Newsletters:
The Best 2013 (and beyond) Resolution

The Demise of Biblical Discernment

They Claim to Speak for God - Part 1

Catholicism-Christian? Or Cultic?

The Lord's Watchman

The Claim to Speak for God - Part 2

The Bible According to Hollywood

The Ultimate Falsehood

The Critical Value of the Bible - Part 1

The Critical Value of the Bible - Part 2

The Secret of Biblical Self-Improvement - Part 1

The Secret of Biblical Set-Improvement - Part 2