2009 Audio Newsletter MP3 Archive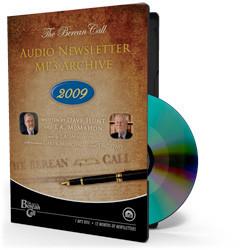 2009 Audio Newsletter MP3 Archive
---
Retail Price: $ 

16.00

Item#

NLMP309

Author:

Dave Hunt & T. A. McMahon

Publisher:

The Berean Call, 2009

Size:

1 disc, 4 hrs.
---
We offer $3 and $7 flat rate shipping to the USA for packages 10lb and less.
Features the monthly cover articles, Quotable, TBC Extra, Q&A, Letters page, and News Alerts from all 12 issues of The Berean Call published in 2009, as read by Dave Hunt, T. A. McMahon and TBC staff members. This beautifully repackaged MP3 album contains one MP3-CD of archival-quality audio files, playable on most compact disc players, car stereos, or computers. You may also copy the MP3 files to your computer, iPod, or other personal, portable MP3 player for your convenience.
Note: The complete audio newsletter library is available only on MP3 here.


Includes the following Newsletters:
The Power of His Resurrection (original)

Divine Opportunities

True Love - Part 1

The Battle over True for Our Youth

True Love Part 2: Morals and Meaning

Israel and Prophetic Proof - Part 1

Israel and Prophetic Proof - Part 2

Refashioning God

The Old Paths

The Messiah & The Cross

The First and Final Lie: Self-deification

The Cradle and the Cross