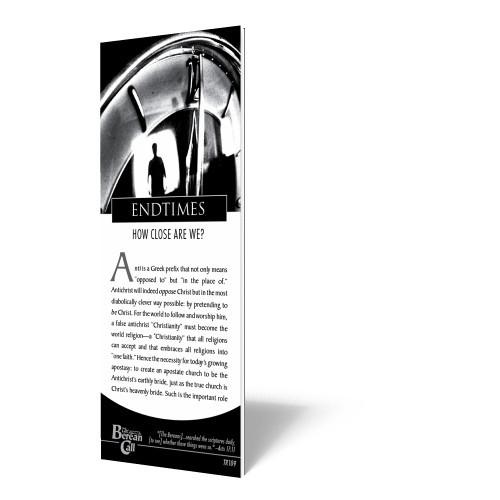 The End Times Tract (10 pack)
---
Retail Price: $ 

2.99

Item#

TR109

Author:

Dave Hunt

Publisher:

The Berean Call

Size:

10 tracts/pack
---
We offer $3 and $7 flat rate shipping to the USA for packages 10lb and less.
How Close Are We?
Anti is a Greek prefix which not only means "opposed to" but "in place of." Antichrist will indeed oppose Christ, but in the most diabolically clever way possible: by pretending to be Christ. For the world to follow and worship him, a false antichrist "Christianity" must become the world religion—a "Christianity" that all religions can accept and which embraces all religions into "one faith." Hence the necessity for today's growing apostasy: to create an apostate church to be the Antichrist's earthly bride, just as the true church is Christ's heavenly bride. Such is the important role of the New Age movement and the many accelerating delusions and seductions in these "last days."
Distilled from chapters in his books and newsletter articles on pivotal issues, these eight-panel, black-and-white tracts were created because of the frequency of reader inquiry.
[ Our old-style "plain vanilla" tracts are still available as a free download on our website. You will find them here: http://www.thebereancall.org/content/free-downloadable-tracts ]