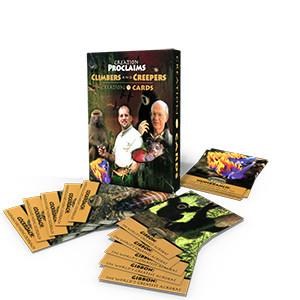 Creation Cards
---
Retail Price: $ 

4.99

Item#

TR201

ISBN:

736211174161

Author:

Biblical Discipleship Ministries

Publisher:

Biblical Discipleship Ministries

Size:

50 cards/pack, 6 designs.
---
We offer $3 and $7 flat rate shipping to the USA for packages 10lb and less.
Have you ever noticed how many people are interested in animals? It is because God has built into mankind a wonder at the things that He has made—He has revealed Himself through His creation (General Revelation). Children especially love to talk about and study animals. The hope that inspired the Creation Cards is that they will be taken on field trips, zoo tours, to shopping centers, grocery stores, restaurants, recreational areas, parks, gas stations, malls, fast food stops—EVERYWHERE—with the purpose of bringing people face to face with facts about God's amazing creation.
Designed by Biblical Discipleship Ministries (Dr. Jobe Martin), TBC is excited to add the Climbers and Creepers Creation Cards to our resource materials. Each sturdy, full-color, trading-style card includes a photo of an amazing creature on the front, and on the flip side some interesting and thought-provoking facts about that creature, as well as an introduction to our Wonderful Creator, the Lord Jesus Christ!
Featured creatures in the Climbers and Creepers pack include, Gibbon: The World's Greatest Acrobat; Madagascar's Hissing Cockroach; New Zealand's Wonder Weta; the Nudibranch: God's Rainbow of the Sea; the Madagascan Aye-Aye; and Baboon: The World's Largest Monkey.