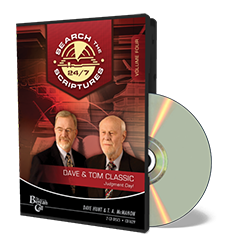 Judgment Day! Is There a War Between Allah and Yahweh? CD
---
Retail Price: $ 

6.50

Item#

CD1629

Author:

T. A. McMahon & Dave Hunt

Publisher:

The Berean Call, 2016

Size:

1 CD, 49 min.
---
We offer $3 and $7 flat rate shipping to the USA.
Originally aired on Search the Scriptures Daily in 2005, Dave and Tom discuss Dave Hunt's book Judgment Day: Islam, Israel and the Nations. Part 1: Is There a War Between Allah and Yahweh? Part 2: Is God Setting the Stage? Re-aired July 22, 2016 and July 29, 2016.