How to Study Your Bible DVD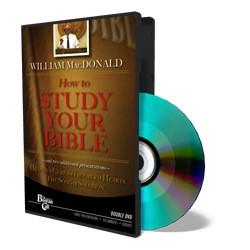 How to Study Your Bible DVD
---
Retail Price: $ 

16.99

Item#

DVD095

Author:

William MacDonald

Publisher:

The Berean Call, 2006

Size:

2 DVDs, 2.3 hrs.
---
We offer $3 and $7 flat rate shipping to the USA for packages 10lb and less.
This TBC exclusive packs three powerful presentations by William MacDonald onto two DVDs to create a truly remarkable set. A proven Bible expositor and prolific author, MacDonald takes viewers through the Scriptures, all the time pointing them toward Jesus, as is the practice in his many books. These three scripture-packed teachings were recorded at Calvary Chapel Modesto, presented in the humble fashion those familiar with MacDonald have come to expect. With more than two hours of Bible teaching on two DVDs, this value-priced collection is an important addition to any home or church library for personal, family, or small group viewing.
How to Study Your Bible - 46 minutes
The Song of Solomon - 46 minutes
Heaven's Cure for Troubled Hearts - 50 minutes