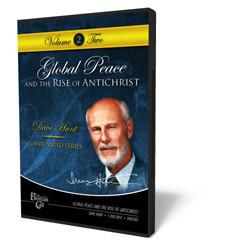 Global Peace and the Rise of the AntiChrist DVD
---
Retail Price: $ 

12.99

Item#

DVD302

Author:

Dave Hunt

Publisher:

The Berean Call, 2010

Size:

1 DVD, 1 hr.
---
We offer $3 and $7 flat rate shipping to the USA for packages 10lb and less.
Volume Two of the Dave Hunt Classic Video Series
Dave recounts: "When I was a boy and I read Flash Gordon and Buck Rogers and so forth...we didn't take it seriously, it was fantasy. Well...we found out that the science fiction writers were prophets. And whatever they imagined, someone would eventually be able to perform....The younger generation sees science fiction in that way today. They are seeing depicted on the screen...something that they realize man can ultimately achieve. And that is why God scattered the human race." Dave proceeds to reveal how leading laboratories were proudly "undoing the Babel effect."
More than 20 years later, Dave's talk is still instructive to us regarding Satan's rapidly advancing plans and ability to harness and manipulate technology in order to prepare humanity for the coming kingdom of Antichrist.