The Bible: God's Word/Hey Stranger DVD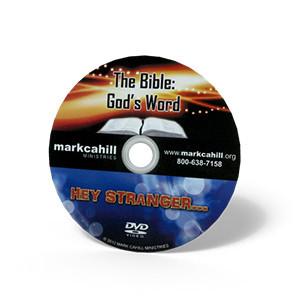 The Bible: God's Word/Hey Stranger DVD
---
Retail Price: $ 

19.99

Item#

DVD321

Author:

Mark Cahill

Publisher:

Mark Cahill Ministries, 2012

Size:

1 DVD, 1.7 hrs.
---
We offer $3 and $7 flat rate shipping to the USA for packages 10lb and less.
Two powerful talks on one DVD.
The Bible: God's Word: Learn to discern whether what someone is saying is biblical or not. This DVD provides biblical answers to objections and questions.
Hey Stranger...: Did you know that more than 80% of the witnessing in the New Testament is to complete strangers? We can't make friends with everybody, but we need to preach the gospel to all creatures.
Mark Cahill speaks to thousands of people each year at conferences, camps, retreats, etc. He has also appeared on numerous radio and television shows. Mark's favorite thing is to go out and meet people and find out what they believe and why they believe it. You can find him at malls, concerts, festivals, airports, beaches, sporting events, etc., doing just that.