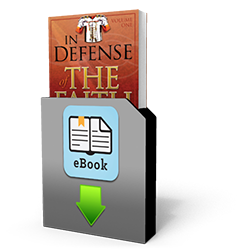 In Defense of the Faith (download)
---
Retail Price: $ 

19.99

Item#

E60668

Author:

Dave Hunt

Publisher:

The Berean Call
---
We offer $3 and $7 flat rate shipping to the USA for packages 10lb and less.
This eBook is available in multiple formats and they will all be sent via email within an hour of purchase.

When confronted with uncomfortable questions from atheists and agnostics, cultists and pagans, or skeptics and mystics, do your once-firm convictions begin to crumble and compromise? Do you tend to take flight—or instead, are you able to stand firm and "earnestly contend for the faith"? (Jude 3)
With the keen eye of an experienced treasure hunter, the author helps readers probe and unearth the incredible wealth of guidance found in God's Word. The resulting adventure will not only strengthen the faith of believers but equip them to live daily according to His revealed truth in an increasingly hostile world. "God says it and I believe it." Issue settled, right? Or wrong? This common response may satisfy the faith of some who struggle with answering difficult questions—but such a reply does little to ward off assaults from skeptics, let alone "convince the gainsayers" by intelligently "giving a reason of the hope that is within you" (1 Peter 3:15). Sadly, most critics who wield tough questions with sarcasm do not expect an intelligent response; and tragically, many dismiss the truth when they do get one. However, what about those who legitimately question the Christian faith—including weak or battle-weary believers whose spiritual convictions may be hanging by a thread? This fascinating book can be a great help by itself, or used in conjunction with the audio series to assist listeners—sincere skeptics and believers alike—with more than 40 years' experience in seeking (and finding) biblical answers to life's most challenging questions:
Why does God allow suffering and evil in the world?
What about all the "contradictions" in the Bible?
Are some people predestined by God to go to hell?
Why would a merciful God punish people who have never heard of Christ?
How can one tell the difference between God's true light and Satan's seductive counterfeits?
FIND BIBLICAL RESPONSES TO SUCH QUESTIONS AS:
Is There a Difference Between Faith and Belief? • Is It Wrong to Want Evidence of God? • How Do We Deal with Doubts? • If We Can Prove God Exists, Why Faith? • Why Do Christians Accept Only One God? • Who Is the True God? • Can We Know God? • Are God and Nature the Same? • Is It Wrong to Ask God to Reveal Himself? • Is Jesus Half-God & Half-Man? • Is the Bible Reliable? • Is the Bible the Only Book of God? • Were Biblical Prophecies Written After the Events? • Shouldn't We Examine All Religions? • Can the Bible Be Verified? • How Do We Know Our Copies of the Bible Are Accurate? • Can You Make the Bible Say Anything You Want? • Is the Bible Infallible? • When Was Jesus Born? • Do the Gospels Disagree?