Lighthouse Trails Booklet Set #1 — Behind the Veneer of Goodness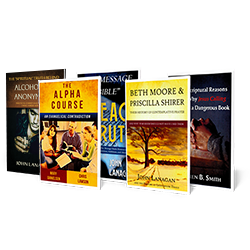 Lighthouse Trails Booklet Set #1 — Behind the Veneer of Goodness
---
Retail Price: $ 

9.75

Item#

LT001

Author:

Various

Publisher:

Lighthouse Trails Publishing

Size:

5 booklets
---
We offer $3 and $7 flat rate shipping to the USA for packages 10lb and less.
We're pleased to offer these fantastic booklets from Lighthouse Trails! Each booklet covers a topic in just a few pages and is perfect for personal study or to give to others. These five booklets are available as a set or individually. We hope to feature more in the future.
This set includes all five booklets listed below:
The Alpha Course
Mary Danielsen and Chris Lawson—The Alpha Course fits perfectly into today's emergent "progressive" culture with its experiential mysticism and its ecumenical merging of all faiths, starting with Rome. This booklet answers the question, "Should Christians who love the Bible be comfortable with a program like The Alpha Course?" 19 pp.

Beth Moore & Priscilla Shirer – Their History of Contemplative Prayer
John Lanagan—Contemplative prayer, which Priscilla Shirer refers to as her "brand new way" and Beth Moore says is essential in really knowing God, is in reality an ancient prayer practice that is essentially the same as Eastern meditation. This booklet is a concise report on these two individuals and the issue of contemplative prayer. 19 pp.
The Message "Bible" – A Breach of Truth
John Lanagan—An excellent synopsis on how Eugene Peterson's The Message omits homosexual sin and other strange deletions, additions, and alterations. 15 pp.
The Spiritual Truth Behind Alcoholics Anonymous...
John Lanagan—... and why Christians should think twice about joining AA. Christians in Alcoholics Anonymous may not see it this way, but in their participation of A.A., they are standing in agreement with a belief system that lifts up strange gods. 19 pp.
10 Scriptural Reasons Why Jesus Calling Is a Dangerous Book
Warren B. Smith—Warren Smith provides ten, concise, and powerful reasons why believers need to steer clear of the dangerous book, Jesus Calling. 19 pp.