Lighthouse Trails Booklet Set #8 — Understanding the Gospel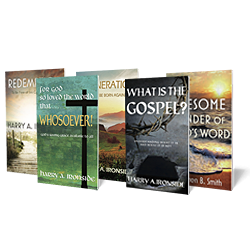 Lighthouse Trails Booklet Set #8 — Understanding the Gospel
---
Retail Price: $ 

9.75

Item#

LT008

Author:

Various

Publisher:

Lighthouse Trails Publishing

Size:

5 Booklets
---
We offer $3 and $7 flat rate shipping to the USA for packages 10lb and less.
We're pleased to offer these fantastic booklets from Lighthouse Trails! Each booklet covers a topic in just a few pages and is perfect for personal study or to give to others. These five booklets are available as a set or individually. We hope to feature more in the future.
This set includes all five booklets listed below:
Redemption —To Be Free of Sin's Curse and Power
Harry A. Ironside — An excellent study, by H. A. Ironside, on "redemption." Everywhere, from Genesis right on to Revelation, you find God in one way or another presenting to us the truth of redemption. 11 pp.
Regeneration: "Ye Must Be Born Again"
Harry A. Ironside — A study from Ironside on the theme of biblical regeneration and what it means for the born again believer. As you let the Spirit of God have His way in your life, you will be conscious of the renewing of the Holy Ghost changing your affections and desires, fixing your mind and heart on things above. 11 pp.
For God So Loved the World That... Whosoever! God's Saving Grace Available to All
Harry A. Ironside — Ironside writes, "Why do so many people think [John 3:16] is the greatest text in the Bible? There are other wonderful texts that dwell on the love of God, that show how men are delivered from judgment, that tell us how we may obtain everlasting life; but no other one verse, as far as I can see, gives us all these precious truths so clearly and so distinctly." 11 pp.
What is the Gospel? Understanding What it Is and What it is Not
Harry A. Ironside — The Gospel is God's good news for sinners. the Bible contains the Gospel, but there is a great deal in the Bible which is not Gospel. H. A. Ironside presents clearly and in detail what the Gospel of Jesus Christ is and what it isn't. 15 pp.
The Awesome Wonder of God's Word
Warren B. Smith — God's true authentic Word—we would be totally lost without it. However in today's compromised church, spiritual experience seems to be the name of the game. Consequently, there seems to be more interest in a word from God rather than in the Word of God. Lest we become compromised ourselves, we must never take God's Word for granted. 15 pp.