Lighthouse Trails Booklet Set #11 Trust in God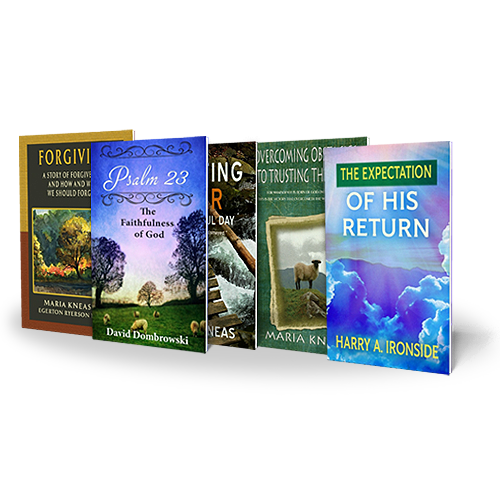 Lighthouse Trails Booklet Set #11 Trust in God
---
Item#

LT011

Author:

Ironside, Dombrowski, Keas, Young

Publisher:

Lighthouse Trails

Size:

5 booklets!
---
We offer $3 and $7 flat rate shipping to the USA for packages 10lb and less.
We're pleased to offer these fantastic booklets from Lighthouse Trails! Each booklet covers a topic in just a few pages and is perfect for personal study or to give to others. These five booklets are available as a set or individually. We hope to feature more in the future.
This set includes all five booklets listed below:
The Expectation of His Return
Ironside —  Some people think of the second coming of the Lord as though it were a dreadful event, an event from which we might well shrink, because they confound the second coming of Christ for His people with the day of judgment for a godless world; but these are two very distinct event. This booklet will educate the reader on the difference between these two events and encourage Christians to look forward to Christ's return. Lighthouse Trails, 18 pp.
Psalm 28: The Faithfulness of God
Dombrowski —  When David penned the words to Psalm 23, he attested in unquestioning words to the faithfulness of God. Verse 1 is one of the boldest statements found in Scriptures because it testifies to the faithfulness of God from a man who had a unique relationship with the Lord. He was a man after God's own heart, a man who grew to believe that God is always faithful no matter what our position in life may be. God is glorious, and never can too much be said to the glory and majesty of God. This booklet is an inspirational study on this important Psalm! ighthouse Trails, 10 pp.
Fighting Fear in a Fearful Day
Kneas —  Maria Kneas writes poignantly about her lifelong battle with fear. Even without persecution, we have to deal with fear. Drastic things can happen suddenly, without warning. In her struggles she has learned many things through prayer and from studying God's Word. In this booklet she shares her wisdom and insights. Topics include trust, taking God's Word seriously, repentance, and more. And let the peace of God rule in your hearts, to the which also ye are called in one body; and be ye thankful— Colossians 3:15. Lighthouse Trails, 22 pp.
Overcoming Obstacles to Trusting the Lord
Kneas —  How can we increase our trust in God? One way is to identify some of the obstacles to trusting so that we can deal with them. We can ask God to: (1) make us aware when we fall into these ways of thinking or reacting, (2) deal with things in our hearts that are fertile ground for these hindrances, and (3) give us practical strategies, and grace, to overcome these problems. Lighthouse Trails, 22 pp.
Forgiving - A Story of Forgiveness and How and Why We Should Forgive
Kneas & Young —  Mask-e-pe-toon was a warlike chief, and his delight was in all the excitements of Indian conflicts. Mr Rundle, of the English Wesleyan Missionary Society, was the first missionary who at great personal risk visited the Cree tribes and faithfully declared the message of salvation to them. This booklet tells an amazing story of repentance and forgiveness.  Lighthouse Trails, 14 pp.