Lighthouse Trails Booklet Set #14 Satan's Territory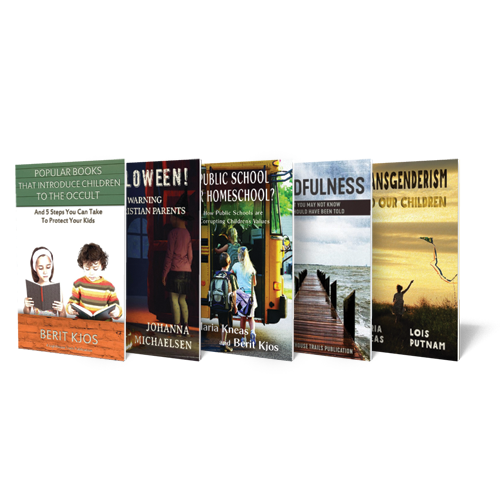 Lighthouse Trails Booklet Set #14 Satan's Territory
---
Item#

LT014

Author:

Various Authors

Publisher:

Lighthouse Trails Publishing

Size:

5 booklets included!
---
We offer $3 and $7 flat rate shipping to the USA for packages 10lb and less.
We're pleased to offer these fantastic booklets from Lighthouse Trails! Each booklet covers a topic in just a few pages and is perfect for personal study or to give to others. These five booklets are available as a set or individually. We hope to feature more in the future.
This set includes all five booklets listed below:
Transgenderism and Our Children
Kneas & Putnam — The transgender agenda is already being practiced in some schools and is soon coming to schools nationwide. For the sake of our children, we cannot be apathetic; we must stand up for truth. This booklet boldly teaches the truth about Transgernderism, according to God's Word.  Lighthouse Trails, 18 pp.
Halloween! A Warning to Christian Parents
Michaels —  A booklet examining the history and spiritual origins of the holiday we call Halloween. What are the implications of celebrating Halloween for Christian families? This booklet is filled with insightful advice for parents, history surrounding the holiday, biblical exhortations, and alternatives for families seeking to honor the Lord on Halloween. Lighthouse Trails, 7 pp.
Public School or Homeschool?
Kneas & Kjot —  We need to be vigilant to protect our children from being devoured by those who are out to destroy their faith and their morals. This booklet brings up concerns about the public school system and offers resources for parents who are considering home schooling. Remember that, as parents, it is ultimately our responsibility to see that our children are brought up in the ways of the Lord.  Lighthouse Trails, 22 pp.
Popular Books The Introduce Children to the Occult— And 5 Steps You Can Take to Protect Your Kids
Kjos —  From the author: "In this booklet, I want to give you a brief overview of what young people are being handed today in the form of books and literature. While much of this reading material is being touted as having value and virtue, the underlying sediment is anything but that." Lighthouse Trails, 17 pp.
Mindfulness— What You May Not Know and Should Have Been Told!
LHT Editors —  Currently, "mindfulness" is being introduced to tens of thousands of public schools across America. When we consider some of the possible symptoms from practicing meditation— unrestrained behaviors, psychotic depression, a loss of a sense of identity- we must ask the question, will this huge thrust by public schools end up producing a greater amount of violence and psychotic behavior in our society? Lighthouse Trails, 14 pp.